Mexico's ADO bus line is perfect for the budget-minded traveler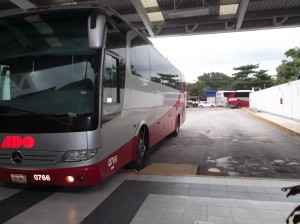 My favorite way to travel to Belize is via the Cancun International Airport (CUN).  I have traveled to and from Belize a number of times over the last few years, and have probably gone through the Belize airport only twice.  I chose to go directly to Belize when I first moved there in 2008 because we were traveling with pets and I wanted to minimize the number of borders I had to pass through.  Otherwise travel through Cancun is my preference because of the affordability and the experience.  Of course, if time is a major factor then a flight directly to Belize is probably most efficient for you.
During my last trip to Belize I was traveling with four friends who had never been to Belize.  I went over our options with them, and we ultimately decided to fly through Cancun for this trip.  The difference in price was significant.  This time we paid approximately $450 for a roundtrip ticket from Portland, Oregon to Cancun.  The ticket directly to Belize would have cost us at least $800 at the time we were purchasing them.
Along with the dramatic difference in cost for the ticket, I love spending a couple days/nights in Mexico before heading down to Belize.  There are a number of options for staying along the Yucatan Peninsula.  Cancun, Playa Del Carmen, Isla Mujeres, Cozumel and Tulum are just a few of those options.
I get several questions about the ADO bus schedule and experience from readers, so I thought it would be helpful to outline our last trip down from Cancun to Belize via the ADO bus.  For this trip we planned to stay in Playa Del Carmen, Mexico for two nights before continuing onto Belize.
We arrived in the Cancun airport around 4:00pm.  As soon as we all cleared customs we headed straight to the ADO window just past the Customs exit doors (big red letters; ADO).  We purchased tickets from the airport to Playa Del Carmen for $120 pesos (approximately $10 USD).  The bus is big, air-conditioned and comfortable.  It is comparable to a Greyhound bus in the US.  The ride to Playa Del Carmen took about an hour, and the bus terminal drops you off right in the middle of the tourist strip.  We were able to walk to the hotel we had reserved, but you can easily hail a taxi if you would rather get a ride somewhere.
We stayed in Mexico for two nights and then planned to continue to Belize on the ADO bus.  There is a new route directly to Belize from Mexico, but there is only one departure time available.  At 11:40pm the bus departs from the Playa Del Carmen terminal to Belize, and it is a 4 ½ hour ride.  That timeline didn't work for our schedule so we opted to take the bus to Chetumal with the plan to take a taxi to the Belize border.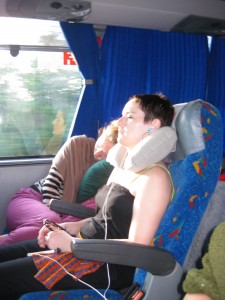 The bus leaves fairly frequently (about once an hour) to Chetumal so we decided to leave around 1:00pm.  It is about a five hour ride and costs $252 pesos (approximately $20 USD).  We arrived in Chetumal around 6:00pm.  There is a taxi terminal right outside the ADO bus station that we utilized.  Expect to pay about $20 USD for a taxi to the Belize border (I have negotiated a cheaper price before, but this is the standard quote).
The taxi took us through the Mexican border (note: you should not have to pay an exit fee when leaving Mexico through the Chetumal border, but don't be surprised if you are told you do).  They told us we would all need to pay $200 pesos, but none of us did.  Once we were stamped out of Mexico the taxi took us onto the Belize border (you will go through a "free-zone" in between borders that includes a few casinos and a duty-free shopping area).  Once at the Belize border you will lose your Mexico taxi, but if you arrive at the Belize border anywhere between 9am and 6pm you should be able to get a Belize taxi to take you to your destination in Corozal, Belize.
We arrived at the Belize border, went through Customs and Immigration and waited for our ride.  My mom was picking us up at the border.  The ride from the border to Corozal Town is about 15 minutes.
Going back to Chetumal from Belize is the same process except in reverse.  On the way back my friend (also a Belizean taxi driver) took us from Corozal Town to the Chetumal ADO bus station for $60 BZD ($30 USD).  We opted to travel to Tulum, Mexico on the way back.  We stayed in Tulum one night and then rode directly to the Cancun Airport the next day on the bus.
Hopefully this helps you decide if traveling on the ADO bus from Mexico to Belize is the right option for your journey to Belize.  You can visit the ADO website to get an idea of departure times, travel time and cost, but the site is in Spanish.  Currently there is only one departure time available from the Cancun directly to Belize; 10:15pm for $374 pesos (approximately $30 USD).  The travel time is six hours.  The bus leaves from the Cancun ADO station in town so you will have to take a 30 minute ADO bus from the airport to this bus terminal ($52 pesos).