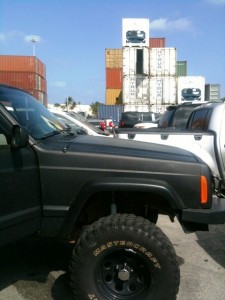 After an unexpected three-week stay in the States we (Scott and I) are back in Belize again.  We had only been here for a few days before we had to turn around and go back.  It's nice to start settling in since our trip to the States was non-stop and exhausting.  We did decide that while we were in the States we would pick up a vehicle to ship to Belize.  Scott has driven through Mexico from the States with vehicles to bring in but violence in Mexico has increased quite a bit so we were hesitant to drive through this time.  Now I will have a new experience to write about since I have never shipped anything from the States.
We bought an old Jeep Cherokee in the DC area and drove it down to Ft. Lauderdale, FL to put on a freighter ship.  We chose to work with Hyde Shipping so once we hit Ft. Lauderdale we headed right to the port.  We got through security and headed in, but there wasn't a clear sign indicating where Hyde shipping was.  So we drove around for a bit and finally called to ask – turns out it's the first left after the stoplight and the office is a small trailer (if you ever find yourself in this situation).  Once we found it the process was a smooth one; we had the title and our passport and they had the rest of the paperwork.  We pre-paid there (we had the option to pay in Belize City) and it cost $750 which was based on the size of the vehicle.  The vehicle has to stay in Ft. Lauderdale for three days to be cleared by US customs and then it was shipped last Monday.
When we got to Belize we started the process of finding a broker and decided to work with a friend of ours here.  So the vehicle arrived in Belize City on Thursday but we have to wait until Monday to start the paperwork and then we get to pick it up Wednesday.  I don't have the details yet on the Belize side but I will update everyone on that process once we go through it.  Duty will be a very high percentage (check out the percentages here) so we'll still need to put out money.  We also found out that the shipping cost is included in the value of the vehicle when Belize customs determines the amount of duty.  Right now we're using vehicles that are limping along so it will be so nice to get our Jeep home and start exploring.  It's a perfect vehicle for Belize; an aftermarket lift, improved shocks and the entire vehicle has rhino-lining on it.  I'll keep everyone updated on the progress next week.
If you have any advice about shipping containers to Belize please feel free to comment and share – it's a new experience for me and I get questions often about shipping items over.