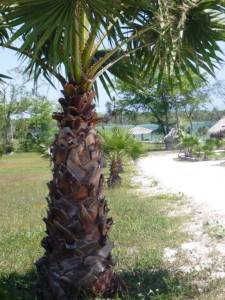 Great news!!  Our Jeep finally made it to Belize and it is in our driveway.  It actually arrived in Belize on Friday evening of last week but it had to wait in its container until customs got around to unloading it.  So Monday morning our friend (helping us with the duty/customs side of it) went to Belize City to check on things.  He reported back to us that evening that it was not out of its container yet so we really wouldn't be able to do anything until Wednesday (yesterday).  In the meantime a few cool things happened around here…
I discovered tadpoles in our lake a couple of weeks ago so a few days ago when we went down to swim I was delighted to find some of the tadpoles had started to transform into tiny little frogs.  Some tadpoles had little legs, some frogs had a little tail and then there were some little frogs that had fully developed out of their aquatic state.  It was really neat to see the different stages of that process.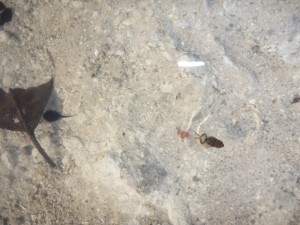 Also since we've been back, a little crocodile has made his home by the hand-cranked ferry we have to take from Corozal to Progresso.  He just hangs out along the shore and sometimes he'll swim along with the ferry.  He's only about 2 feet long so this may be the only time I call a crocodile "cute".
Lastly, with the critter theme, I woke up Tuesday morning to get ready for Corozal.  The last thing I grabbed was my computer and I discovered a ton of tiny ants pouring out of it.  They were coming out the fan, the ports and the keyboard.  I freaked a little and just started smashing them.  This is the first time that the ants have played around in the electronics like this.  By the time it was all said and done I killed about 60 ants.  When we got to Corozal I was afraid that there were still some stragglers in there so I was nervous to start the computer.  I tried to take it apart but it's so tightly put together that I couldn't get it all apart.  So I took a chance and started up.  Luckily no problems, so the next day we scrapped the natural ant repelling remedies that we had been trying over the last couple of weeks and bought ant traps.  I'm happy to report they are doing their job.  We were disappointed that we had to break down and use poison but they were invading our house.
Tuesday night we stayed in Corozal because it would be easier to get up and go to Belize City the next day for the Jeep.  We had met Yoga Man (Phillip) a few times over the past few weeks (he plays in a band which plays parties at Scotty's Bar and Grill occasionally) and, as his name suggests, he also instructs yoga classes five days a week.  We got in town in time for his morning classes and it was fantastic!  If you wind up in Corozal for any extended period of time and are interested in yoga, he holds his classes at the Skytop (above Al's Cafe).  Check him out online and I highly recommend his classes.
Finally Wednesday arrived and we woke up very early to head to Belize City with our friend.  My mom drove so there were four of us in her tiny little Toyota.  Scott inspected the Jeep first and then we let our friend do the work with customs.  While we waited for him we went in to Belize City to run a few errands.  Normally we try to stay out of Belize City but we were already there and they have a larger selection of supplies than anywhere else in Belize.  Our first stop was a really cute little coffee shop, Moonclusters Coffee House, that none of had been to, but had been recommended by a friend.  The coffee was delicious and they had a pretty wide selection of drinks.  The atmosphere was really cute and eclectic too.  It was on Daly Street if you find yourself in the area.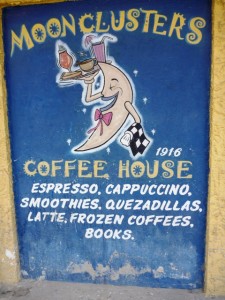 Next stop was Brodie's Grocery Store – they have a much wider selection of goods than anywhere else I've been in Belize.  They also have very high prices so check out a place called Bottom Dollar on 75 North Front Street first and then head to Brodie's for the rest.
Our friend was almost done with the Jeep by lunch time so we headed to Riverside for lunch and made a quick stop at Premium Wine for a couple bottles.  By 2:30 the Jeep was out of the port and in our possession.  It was so exciting to see it pull up so I snapped a quick picture of the first glimpse I had of it in Belize.  Success!  Now we have wheels and hopefully we'll get to explore Belize a little in the next month or so.