My passport has been getting dangerously full of stamps and so to avoid running out of space I booked an appointment to go visit the US Embassy in Belmopan, Belize this week.  The Embassy is very guarded so you must have an appointment booked ahead of time; the appointment can be made through their website at http://belize.usembassy.gov/ very easily.  So Monday night after work at Scotty's Bar and Grill we got everything packed up ahead of time because we were taking a ridiculously early bus from Corozal to Belmopan which was scheduled to leave at 3:30am.  Ugh!  We decided to take a bus because we wanted to save on gas, and I had never taken a bus in Belize so it would be something new to write about.  Scott had checked the bus schedule the day before and that was the only direct bus to Belmopan from Corozal.
I can't even say it was bright and early when we woke up on Tuesday for the bus because it was dark and I was grumpy.  We walked from my parent's house in Corozal to the bus station (about a 10 minute walk) at 3:15am.  The bus was sitting there in the dark so we boarded with pillows in hand.  The bus took off just about at its scheduled time.  The bus stops frequently and it was difficult to sleep on the trip so by the time we got to Belmopan I was exhausted and still grumpy.  I'm sure the bus experience would have been so much better during the daytime.  The important thing was that we had arrived so we started to look for something to eat around the market and ran in to some friends from Corozal who were also there to go to the Embassy.
We ate with them and hitched a ride over to the Embassy (which does not have a parking lot).  Everyone parks on the side of the road and then we waited outside to get clearance and enter.  They wouldn't let me bring my camera in (in fact we had to check almost everything at security) so I only got one snapshot from the gate.  It was a fairly painless process and we were all done an hour later – I have a very thick passport with 48 new pages in it for $82USD.
Our friends were nice enough to let us hitch a ride back to Corozal with them (I was so happy!) so we got to do a few things around Belmopan before getting on the highway back home.  We made three stops past Belmopan on the Western Highway; Riverwalk Nursery, The Orange Gallery and the Hot Mama's factory.
The Orange Gallery was first; a gift shop/art gallery, hotel and restaurant all in one.  They have a huge selection of Belizean art work, wood carvings and other gifts so we took some time to look at everything.   We left with a wood cutting board to give as a gift and a smoothie from the bar.  If you're in the area it is absolutely worth the stop.
Next was the Riverwalk Nursery which is one of the biggest nurseries I've seen in Belize.  It is located at Mile 60, Western Highway.  They had all sorts of tropical plants so Scott and I went home with a habanero plant and another indoor plant for our place.  We have a gardening project to start over the next couple of weeks so those plants will be added to the collection.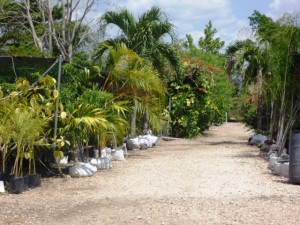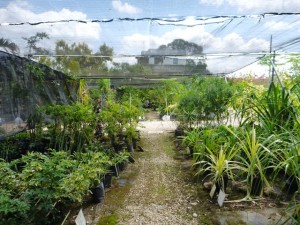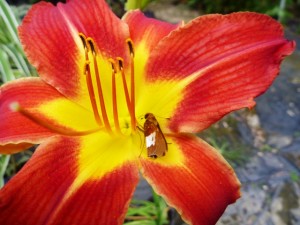 Across from the nursery was the Hot Mama's factory where their various habanero products are made.  We even got to sample one of their newest products; habanero chocolate.  They have the peppers growing right there on the property as well.  We stocked up on some sauces and jellies and started the journey back to Corozal.
Our final stop before home was in Orange Walk for some lunch.  We ate at a Chinese restaurant called Lee's which is right across from my new favorite stop in Orange Walk, Natural Balance (restaurant, coffee and tea).  The address is #16 San Antonio Road and they have delicious smoothies and coffee.  They also have a small menu if you need something to eat.
We finally made it to Corozal and took a 5 hour nap.  It had been a long day.