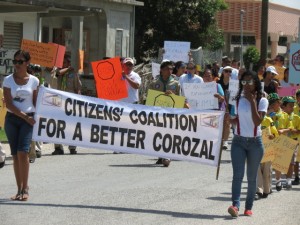 October 31st, 2012 the government of Belize held a closed-media press conference where Minister of National Security, Hon. John Saldivar stated that the Ministry of National Security and the Police Department will continue to employ their Anti-Crime Strategies Plan.
High crime rates have continued to be a national challenge in post-independent Belize, and public outcry has prompted government response. The Minister announced that the Ministry of National Security's plan became effective three months prior to this press conference. The Minister stated his confidence that their plan will achieve the desired results.
This government was sworn in for a second term during March 2012, and since then during the months of March and May 2012 Belize saw a spike in major crimes, specifically in the Belize, Cayo and Corozal districts. As a result of these increases the government began active dialog with countries including; Britain, Canada, Mexico and the United States.
Since October 30th security forces, including the Belize Defense Force (BDF), have been deployed into crime ridden areas to target and disrupt criminal activity. Moving forward there will be a more visible presence in these areas, and the government is asking for cooperation and understanding during the security forces operations.
As of October 31st the police and BDF have the power to search any houses in crime ridden areas without the need for a warrant, and will allow restricted movement in and out of these areas. These efforts have become priority and are a seven-days-a-week operation. This will include vehicle check-points to intercept and disrupt criminals.
On October 30th the Director of Public Prosecution was asked to petition the court to impose stiffer conditions to bail, including the denial of bail for repeat offenders. Additionally the Ministry of National Security has received the go ahead from the Prime Minister and Minister of Finance to establish a corrective training facility. This facility will house convicted, habitual juvenile criminals for a period of corrective training and discipline. The facility is to be located in the Pine Ridge area, and administered by the Belize Defense Force personnel.
The Minister also announced that the state will be launching a Citizen's on Patrol Program (COP) in January 2013 that will expand on those that have been recently implemented.
Information provided by Corozal Daily November 2nd, 2012