Reported by Lincoln Eiley of the Corozal Central Neighborhood Watch Group…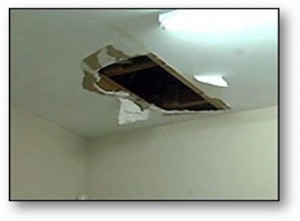 While the Belize City Red Cross volunteers were in the Corozal district over the weekend helping those flood victims, their Belize City headquarters was targeted by burglars. Tens of thousands of dollars in equipment were stolen from the NGO. Data and information that is required for capacity building in times of disaster and very vital and priceless information were robbed.
The burglary is believed to have taken place sometime before 3 on Sunday morning when their building alarm system went off and alerted their Security Company. The police were called to the area but saw nothing – that is because according to the Director General – Lily Bowman – "the burglars made entry through the roof of the building which would probably make it difficult for anyone to see them". The Belize Red Cross and its Response Team stepped up to assist our Corozal District. Volunteers who are not paid any salaries or stipends have come all the way from Punta Gorda, Belize City, Orange Walk, our friend Felix from Cooper Bank, Belize River Valley, Bermudian Landing, San Pedro Village, Sarteneja, Corozal Town. The Red Cross has so far assisted 12 villages, including, Xaibe, Chunox, Caledonia, Patchakan, San Joaquin, Corozal Town and 163 families who are still affected by the recent flooding by providing food provisions, water, nets, grade 1 first aid kits, water purifiers, tarpaulins and other basic items.
Norberto Pot from Caledonia claims that this is the first time in 25 years living in his community that he has ever been assisted in a disaster and this came from the Response Team of the Belize Red Cross. We have heard inspiring stories of 71 year old Mrs. Moh from Caledonia who is still under a tarpaulin roof and who is caring on her own for her six grand kids under these dire times. Bless her soul. A truly inspiring woman.
All mosquito nets that are being handed out by the Red Cross MUST be left to sun for one day before being exposed and used. The repellents on the nets are toxic if instructions are not followed properly. Instructions for water purifiers must be followed as well.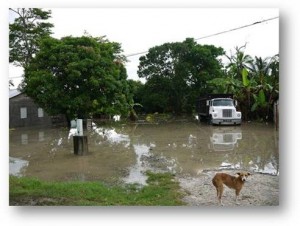 Caution must be exercised in areas that are still flooded due to vector prone diseases (mosquito) and water borne diseases due to faecal coli-form contamination from exposed open pit latrines. Reports of skin rashes on persons who have been exposed to contaminated water has been reported. All water that is consumed must be boiled, treated and purified according to Public Health Standards. For any assistance please contact your Corozal Red Cross Response Team and Public Health Department.
Any person can donate food supplies, clothing, medical, water to the Corozal Branch of the Belize Red Cross. Please do. We would like to give a heartfelt thanks to all the lady Volunteers and the Response Team from the Belize Red Cross. God Bless Belize!