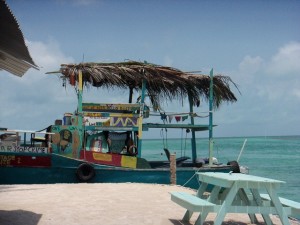 Caye Caulker.  One of my favorite little islands around – if you talk to anyone who has lived in San Pedro for an extended period of time will talk about how Ambergris Caye was years ago.  It sounds a lot like what Caye Caulker is now.  It's a quaint little town with a friendly vibe and unpaved roads.  It's what island life should be like.  I recently took a trip out there to stay a couple nights – we were in a group of five, we were expecting beautiful tropical weather and a lot of relaxing.  This was my first time spending any nights on the island so I was excited to see how that would change my experience of the island.
We took off from the Corozal regional airport around 11am.  This time we flew Maya Island Air and that was also a first for me.  They are slightly less expensive than Tropic Air – it cost us about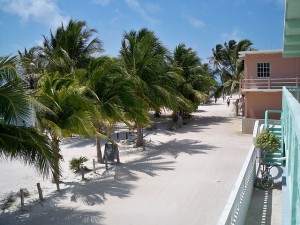 $95USD for a round-trip flight to San Pedro, Ambergris Caye.  We decided we would fly to San Pedro and then take the water taxi to Caye Caulker because it was a lot less than just flying the whole way through.  Our timing was perfect – we got off the plane and we were on the water taxi in about an half hour.  The taxi costs about $20USD round-trip.  The taxi takes about 30 minutes and they really packed us in tight, but the ride was smooth.  You may want to take a light jacket or put some sunscreen on before the trip though because if you're out in the open section of the boat you will feel the sun.  We arrived on Caye Caulker with no problem and our first stop was the Rainbow Hotel to check in and drop our bags off.  We got hounded by taxi drivers as soon as we got off the boat but since everyone in our group had been to Caye Caulker before we knew that it was only a few minutes walk down the beach and we were packing light so there really was no need for a taxi.  There was no problem checking in and the hotel staff was very friendly and helpful.  The rooms aren't anything spectacular but they are clean and comfortable for the very affordable price.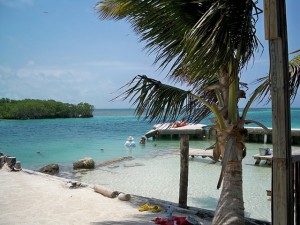 After we dropped everything off we were headed to the Split immediately to hang out and soak in as much sun as we could.  The Split (the point where Caye Caulker was literally split in two during a hurricane) is one of my very favorite spots in Belize.  Sunday afternoons are the most popular day/time for this favorite hangout but any sunny afternoon is a great day at the split.  The water is deep, refreshing and a spectacular blue.  There are a few picnic tables in the shallow, sandy areas just off the bar if you don't want to dive in completely.  It is deep enough to jump in off the cement jetty and a great way to cool off.  Once the sun
starts to go down we grab our gear and head back to the hotel.  We were planning on a great homemade Italian meal that night but our favorite spot was closed so we ended up at Don Corleone's.  If you read my previous post about our experience there you will know that I do not recommend this place.  Awful.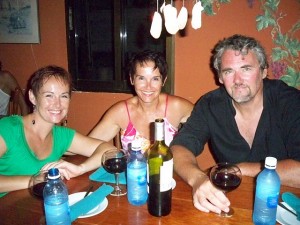 After dinner we decided to go out on the town.  We needed to do something to calm our nerves over the horrible dinner experience.  I don't smoke but I was sucking down the cigars that night just to try and equal out the anxious feelings I had experienced over dinner.  Needless to say I regretted that decision the next morning.  Caye Caulker is such a small island that the nightlife happens at one spot and then everyone moves around at the same time.  The place to start was the I and I, and then we moved to the "nightclub" on the main strip.  Dancing, sweating, drinking and making new friends were the night's activities and it was just what I needed after my recent heartbreak.
It was a great couple nights in my favorite Belizean Island.  We did run into an old friend while we were there who moved to the island and is managing a place called Pizza Caulker.  So I have to make a mention here that Pizza Caulker was our favorite spot to eat while we were there.  They actually made us feel welcome, provided excellent service and a great time.  If you're on the island make sure to check them out and look for the Scotty's Bar and Grill mark on the wall.