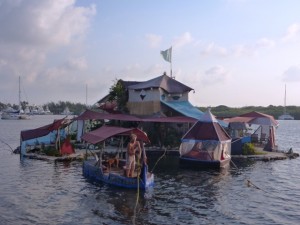 My friend Rishi's plastic bottle island project has been gaining a lot of attention lately.  Not only does he get dozens of tourists coming by each day but now his extraordinary project is garnering more media attention.  MTV recently contacted him for their new season and over last week they were in Isla Mujeres to film.  I was lucky enough to get to witness a lot of this process.
As some of you may already know Scott and I have been helping Rishi with a kickstarter campaign for his island and in the process we have become very good friends with Rishi.  So when MTV contacted Rishi he suggested that Scott help host the show (mostly due to the much younger MTV audience).  So we headed from Belize to Isla Mujeres last week on Tuesday afternoon.  The last few times we've been up to Mexico we've taken an ADO bus but this time we were in a time crunch so we took the Jeep.  It was a bit of a risk because part of the steering rod (specifically the piece that holds it in place) was being held up by a temporary fix.
We didn't have any trouble through the two borders or on most of the drive.  It had gotten dark before we got into Cancun and it was about then, just before we got past the airport, that the steering went out and the rod dropped down creating a horribly jarring sound.  We were forced to pull off to the side of the road that had no shoulder.  Cars, buses and trucks were whipping by us while Scott was under the car trying to fix the problem.  Ultimately he had to put it back in place using zipties so that we could limp to Puerto Juarez to get on the ferry to Isla Mujeres.  We were a bit shaken up when we finally got over the ferry and onto the island so a mojito was definitely in order.  After a drink we made our way over to Rishi's island for the night.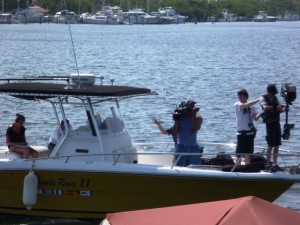 The next day was the first meeting with the MTV crew so they showed up on a boat around 3pm.  They had to scope out the island and figure out how they would be able to shoot all their footage on the small island.  They eventually determined that they would not all be able to be on the island at once while shooting.  So the light guy, sound guy, director and filming guys would be one the island with Rishi and Scott while everyone else would only come on the island on an as-needed basis.  It only took a couple hours for them to take a look around and get an idea of how everything would go, and then they were off on their boat back into town.  Filming was scheduled to start the next day at 8am until 8pm.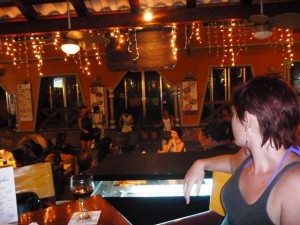 That night we went out to dinner with Rishi in order to work on the ongoing Kickstarter campaign.  We had pizza at Rolandi's (Yum!) and hooked into their wireless account.  After all the business we headed back in Rishi's dune buggy.  That night we stayed in a hotel across the street, Hi-Na-Ha, and that was quite the experience.  I will go ahead and say that this hotel was hands-down the WORST hotel I have ever stayed in.  The next morning we found out that it had previously been used as a brothel (not that long ago) and that answered a lot of questions.  The first hit against it were the sheets, I pulled them back and there was a dead ant and a couple long hairs.  Next there was no fan and the air-conditioner did not work.  Later when I turned the water on to take a shower, an overwhelming smell of vomit filled the room.  The light in the bathroom blew out and one of the towels provided had a very large rust colored stain in the middle.  If there were any other options around I would have left but sadly the options were very limited.  Even though I had to deal with that hotel for one night I would not be staying there the next night for sure.
Most of the day on Thursday I wouldn't be able to observe the shoot so I hung out at the Zama beach club right down the road from Rishi's island and ended up with another sunburn despite staying under the umbrella for most of the day.  Around 5pm I went back over to the island and they still had a lot to do.  So I got to witness the last hours of filming and be on the island for the final interviews (sadly I do not get to be on camera).  They were running behind schedule a lot of the day because of the tight quarters so around 9pm they were just starting on their final interview with Rishi.  The boat they had rented was threatening to leave them since he was over the time scheduled so they had to convince him to stay on an hourly pay basis.  The boat captain eventually decided around 9:30 that he was leaving no matter what so the crew had to cut the interview short and shuttle their equipment back to the mainland before the boat stranded them on the island.  In the end the boat got the equipment moved to the mainland but left without the crew so we all had to ride back into town on the open lighting grip truck.  We all held on to various boxes of equipment as we went down the tope riddled streets.  It was quite an experience and one that the MTV crew will not forget any time soon.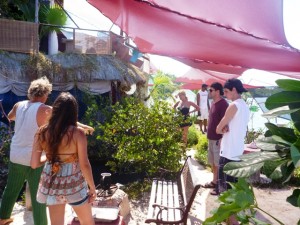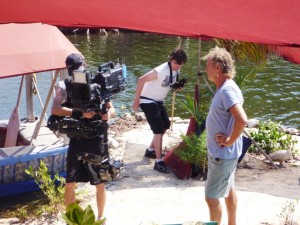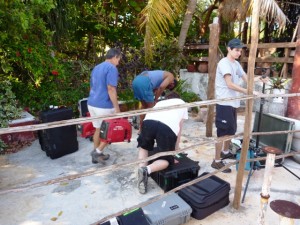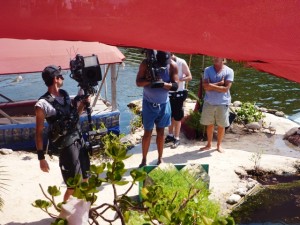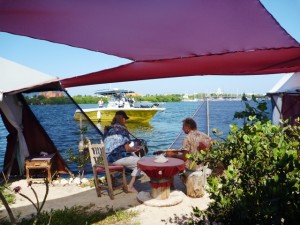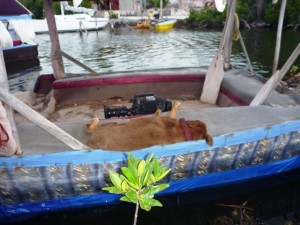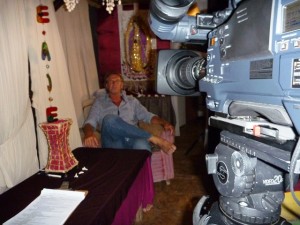 So the shoot was over and I stayed at a much better hotel that night in town called Ixchel Beach Hotel, which I will highly recommend.  The next morning we had a nice breakfast with Rishi to say goodbye and headed back to Cancun.  We weren't sure how long fixing the Jeep would take so we wanted to get over there as early as possible.  Since we didn't have the luxury of staying another night in Mexico we had to get a temporary fix again.  It got us back to Belize with no problems, but there is something a little disconcerting about riding in a Jeep with parts held together with zipties.
If you are interested in helping Rishi get his island launced into the bay, or just want to read more about the project please visit him at Kickstarter.com