I had a week in Costa Rica – not much time given how much there is to see there but it was my first time there and I was excited.  As some of you know I am planning my move back to Belize this month on the 21
st
so I had quit my job in Portland.  My last day was the day before I left for Costa Rica.  I was flying from Portland to Denver and then on to San Jose, Costa Rica and arrived around 6:00am.  I was meeting my boyfriend there – he had already been exploring parts of Costa Rica for a couple weeks prior to my arrival.  It was a long night of travel since I left PDX at 7:00pm but I had a lot to do – I am working on a second bachelors degree in Communication online right now so I had a bunch of homework for the week which I wanted to put a dent in before I arrived.  So on the flight over I was watching the developments in Egypt while reading all about Public Relations.  Finally as the sun was rising I was landing San Jose and very excited.
The first day we just stayed in San Jose at a hotel close to the airport.  We just spent the day relaxing, I had to do some statistics homework and we found a small market (Fresh Market) where we bought a supply of snacks and wine.  They even sell Rum and Coke in a can.  We discovered Britt chocolates here (they are sold outside of Costa Rica as well) and we were instantly addicted.  Dark chocolate covered guava, passion fruit, hazelnuts, cashews, almonds and coffee beans were our favorites.  That night we ate dinner at The Times bar which had pictures of Prince, Madonna and Michael Jackson plastered all over it.
The next day we had already booked a plane ride from the regional airport in San Jose to Fortuna to see the Arenal volcano which is an active volcano.  We had already been warned that the top of the volcano would likely be covered in clouds but we were hopeful to see a glimpse of it.  The ride over to Fortuna was great – I love those little planes and we got plenty of aerial shots.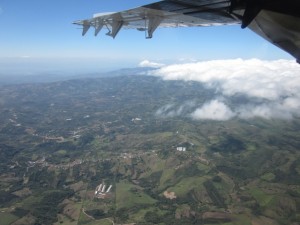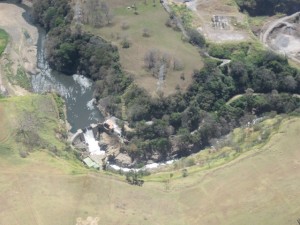 After we landed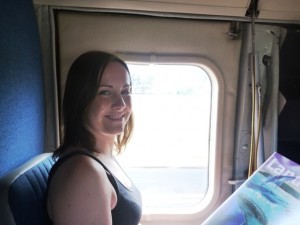 we hopped on the taxi which was transporting everyone else on our plane.  It cost us $5 US each (Costa Rican currency is Colones with an approximate exchange rate of c500 to $1 US).  We arrived at Hotel San Bosco which had been recommended by my uncle from his trip there in 1998.  The Hotel was perfect for us.  It was very affordable at $60/night (including tax) and right in town.  I wanted to stay in town so we could explore easier.  The rooms were basic but comfortable (with A/C) but what most impressed me were the surrounding landscaping and community areas.  I love finding inexpensive hotels with fantastic community areas.  They had a pool, hot tub, breakfast included and internet access.  We could have booked tours through them as well but we opted to book at other places around town (for no other reason than variety).  As we expected the volcano was not totally visible but we had a few days to get a good view of it.
It turned out that we had arrived in Fortuna at a great time because Festival Fortuna 2011 was happening.  It was a benefit for the local schools and events were happening all weekend.  Our first night there we went to the hot springs.  There are several to choose from and we decided on Baldi.  It was a great experience.  We got day passes for $27 that included dinner.  With our day pass we could have been there from open to close but we went late and were only there for a couple hours.  Also dinner was buffet style and not very impressive so I would suggest buying the day pass but eating somewhere else.  Otherwise the hot springs were so relaxing – I loved it!  That night we walked around town and played a few carnival games at the festival.  We also discovered the Lava Lounge which turned out to be our favorite place to eat in Fortuna.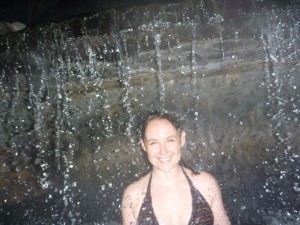 For Saturday we had booked a white water rafting trip through Wave Expeditions so we were up early and on our way to the river.  The tour bus picked us up around 8:30am at the hotel and it was about an hour and a half ride to the river.  Halfway there we stopped at a little shop next to a bridge which was the home to hundreds of huge iguanas.  It was pretty amazing to see them all congregated together like that.
After our quick stop it was back on the bus and an excited group of people were ready for the river.  We were told the rapids were class IV but some of the rivers were low so we suspect they were probably more likely around class III.  We were supposed to go down Rio Torro but it was too low so we ended up on Rio Sara Piqui.  The trip was fantastic!  I highly recommend this.  You can choose a milder trip on the river as well but if you're up for a little adventure go on the class IV trip.  Yes we had to sign our lives away on their waver but luckily I'm here to write about it.  On the trip over our main guide was going through all the possible scenarios and what to do if any of them happen, and by the time he was done I was actually kind of nervous.  It was all worst case scenario stuff that they have to go over though and I'm glad I didn't talk myself out of it.  In fact at the end of the trip coming in our guide tricked me and pushed me overboard so I had to swim to shore.  My final advice on the rafting trip would be to wear sunscreen no matter what the weather is like.  I was talked out of applying sunscreen because it was cloudy and a little rainy.  I knew better but didn't listen to my own reasoning so by the end of the trip I was sun burnt (at least I had put sunscreen on my fact).  Water and tropical climate = sunburn for the fair skinned.  I think I've learned my lesson now.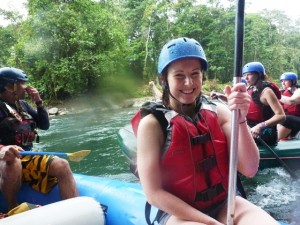 We got to enjoy a cold beer at the end of the trip (Imperial is the most popular beer in Costa Rica) and then a typical tico lunch of rice and beans – which we devoured.  We got back in to town and the volcano was still covered in clouds so we had one more day to see the top.  We were exhausted by the time we got to the hotel so it was naptime.  Sadly we missed the bull riding that night but we made it out to the horse parade.  Scott even found a horseshoe.  Dinner was at the Lava Lounge and was delicious.  They have a couple pet dogs roaming around and a cat that hangs out in the rafters.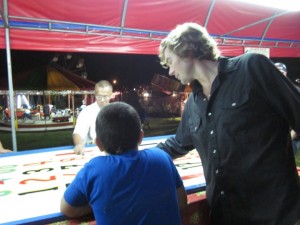 Sunday was Super Bowl so we knew we had to find somewhere to watch but we weren't sure where.  There were enough Americans in town that we were certain we would find it playing somewhere.  Before that we decided we needed another adventure so this time we left around 1pm to go on ziplines, a rappel and horseback ride.  We had found a tour that included all three and it was great for us because it only lasted a couple hours.  I would recommend that if you really want to do any one of these activities in particular then book it as a separate tour rather than a packaged one.
The zipline was a new experience for me and unfortunately on about half of them I didn't make it to the end of the line because I was too light.  There are many different ziplines throughout the country so if you are on the light side make sure to inquire about your ability to make it all the way across.  I ended up pulling myself to the end of about four lines.  It was still a great experience though.  The rappelling was my favorite on this tour.  I had never done this before either and it was so much fun.  I will definitely add that to my list of favorite activities.  The horseback ride was short and slightly uneventful – if you want to horseback ride through a part of Costa Rica make sure you book a tour specific to that that lasts at least an hour.  Sadly this was the tour I lost my camera on.  We retraced our steps very thoroughly but it never turned up.  So I can't share any pictures of this tour with you.
Once we got back it was on to find the game.  Scott and I had a bet on the game (cigar and wine) and I had the Steelers.  We actually bar hopped a bit throughout the game.  Our first stop was a bar across the street from our hotel, then it was on to another place with a bigger screen where we ordered the worst nachos I've ever had in my life (who puts carrots and green beans on nachos??) so we moved on again.  Our third spot was a pizza place that had TVs set up everywhere.  We ordered pizza which was also unimpressive but at least the atmosphere for the game was good.  Sadly I lost the bet.
Monday we were ready to move on to our next spot in Costa Rica – the destination was Jaco Beach.  We rented a car for this leg of the trip through Alamo in Fortuna which we planned on dropping off in San Jose before we flew out.  Before we left Fortuna we made a stop to get some coffee beans at a little shop called Down To Earth and got our favorite lunch at Gecko Gourmet (next to Wave Expeditions).  They make some killer veggie wraps.  The most exciting news was that the volcano was clear!  We got to see the top and even saw the steam coming off the top.  Perfect timing.
Check in for the next post of our trip to Jaco Beach and Hermosa Beach.  As always if you have recommendations or information that could be helpful please add it in the comments.