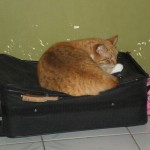 I have been asked a few times now what the process is to bring a pet in to Belize.  When I moved to Belize in 2008 I brought my cats with me and it was a relatively painless process.  The hardest part about the whole thing was my cats' reaction to being on two planes and traveling for a day in their carriers.  I thought it may be helpful for others out there if I outline the steps I took to bring my pets with me from the USA to Belize.  The steps I took were the following;
The forms that I needed to have completed and with me when I crossed the Belize border were;
Approved Import Permit – I was allowed to list all three cats on one permit application
International Veterinary Certificate and valid Rabies Vaccination Certificate
The pets will be inspected by a quarantine officer once you arrive at the border
The steps I took (in the order they are here) are as follows;
Received the BAHA (Belize Agricultural Health Authority) application by emailing baha@btl.net – they were very prompt in getting the application to me and answering any questions.  This is the form you will submit to receive an import permit.  I completed the application and faxed it to their office in Belize.
BAHA faxed me the approved import permit which I carried with me to Belize.  All three cats were listed on one permit.  There is a small charge ($15USD) for the faxed permit which you will pay along with the rest of the fees at the Belize border.
In addition to the import permit you need an International Veterinary Certificate, and a valid Rabies Vaccination Certificate.  I found a vet who specialized in the International Vet Certificate so I wouldn't miss anything and received my certificate from them.  I also had them do the rabies vaccinations.  The rabies vaccination can be no less than one month and no more than four months old.  The vet also told me that Belize required de-worming internally and externally so we did that as well.  The total vet costs to me were about $250 for all three cats and everything I needed done.
I took all paperwork with me to Belize – including the approved import permit I received from BAHA and presented it all to the BAHA official at the airport.  The official inspected all three cats and looked over all paperwork.
I had to pay $85 US dollars total once inspection was complete; $50 for the permit, $15 for the faxed import permit I received in the states from Belize and $20 for an inspection fee (I was not prepared for this one).  This is what my receipt stated and the prices may have increased since then.
Once I paid I was free to take my animals into Belize with no trouble.
If you don't follow their process there is a fee of $100 that may be charged to you.
I ran in to one big problem at the Portland International Airport (my first airport of the trip).  Since we had the cats we had to go through the screening first, individually, and then to a special room where the cats had to come out of their carriers and the carriers themselves had to be run through the screening process.  We had bought a spray recommended by the vet to calm the cats down a little since we weren't allowed to sedate them (airline policy) so that had been sprayed all over the carriers.  At this point the cats hated us – they were freaking out and I wasn't happy about removing them from the bags.  We had to though so they were out in the little room with cat hair flying everywhere, trying to find any possible hiding spot they could.  The security officers came back after a little while and said we needed to come with them for additional screening.  They were suddenly very serious and my heart skipped a beat while we went out of the room and followed them.  We each had to have full body scan with the wand they use again, and then they had to search through all our other stuff again.  After they had scanned us all they told us that whatever we had sprayed on those cat carriers should never, ever be used again for airline travel.  It had set off all sorts of alarms.  A little embarrassed we nodded and went on our way.  That spray is Feliway made by Ceva – DO NOT USE THIS SPRAY GOING THROUGH AN AIRPORT.  So if you are contemplating products like this make sure that it is airline approved.
If you have had experience traveling abroad with your pets (specifically to Belize) please feel free to comment with any additional advice.  The fees I have listed were from 2008 and may have increased slightly over the last couple of years.