On Wednesday I got to fly back to Belize for a couple weeks and felt like I was headed home.  I was a little nervous that I would get to Houston and find that my flight would be delayed or worse, canceled, because of Tropical Storm Karl hitting right above Belize that same day.  I had nothing to worry about though – the flight was on time and there wasn't even much turbulence as we flew in.  The pilot did a great job of avoiding the stormy spots.  I got off the plane and saw my boyfriend waiting for me in the viewing section of the airport – I couldn't keep a smile off my face.  I had no problem getting through customs or immigration and had a tremendous hug and kiss waiting for me just outside the airport.  I was a very happy woman.
Adventures are plentiful in Belize and this trip has been no different.  I have a snake story already which I will post about tomorrow after the whole ordeal is done.  In the meantime I just wanted to do a quick photo update for the last couple days…as I sit here writing this I just realized I have a tick in my leg.
Wildlife so far…
Early morning kayaking trip…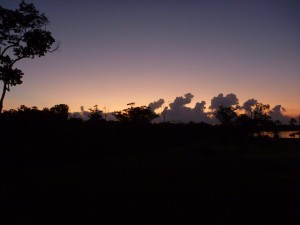 More on the snake later.