by Kim Wright
http://www.rmswebproductions.com/
Kim traveled to Belize on vacation in October of 2005 – the following is a summary of her experience there.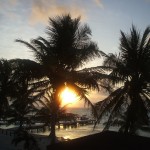 I went to Belize around October of 2005.  I will start off by telling you it was a rich and rewarding experience.  The people are wonderful, and I recommend getting out and meeting them and take a couple tours.  I will also tell you there are some downsides that I experienced as well.
Our destination was Ambergris Caye, which can only be reached by plane and boat from Belize City.  I remember getting off the plane and being directed into this small airport.  The air is quite humid, but the skies were clear and beautiful.  The people in customs were a little rude, uninformative and not very helpful that day and there was some confusion about our flight out and which flight our luggage went on.  Also, there were couriers there who wanted to handle your luggage and guide you through, so be prepared to fork out a couple dollars.
The best part of the entire trip was our transfer to San Pedro.  You can't reach the island by road, so we flew in a small airplane accommodating about 12 people.  I had never been in a plane so small and I was afraid, yet it was the most fabulous experience of my life.  You could see the bottom of the ocean, and the sights were spectacular.  Once in San Pedro it was a 15 minute boat ride to Ambergris Caye.
I stayed in a cabin right on the beach and this island is protected by a huge coral reef, so while the snorkeling and diving is spectacular you do not get the feel of a real ocean, with the sounds of waves and the breezy air.
This time of year, the insects are a little overwhelming.  Every night the complex sprayed for pests.  Not the most pleasant smell.  Also, the complex we stayed in ran off generators, and you could hear them all night long.
Belize is a poor country but rich with fascinating sights and the people of this country are so welcoming.  I went to see the Mayan temples.  The guides were so friendly and informative about the rich heritage of this country.  Also, cave tubing is a lot of fun if you aren't afraid of water or the dark (they do give you headlights). Lunch was provided in a beautiful restaurant surrounded by lush vegetation and trees.
When on the beach of our complex there were solicitors on bicycles riding along the beach selling their home fashioned goods.  Little did I know that these goods were nothing more than tourist items that could be found at any local shop.
Getting to San Pedro by boat every day is a great experience.  Once in San Pedro you will find some nice restaurants, but also unpaved roads and poverty.  Despite this I never felt unsafe.  There did seem to be an overpopulation of underfed cats running around.
In the city, people get around by golf carts which looked like a lot of fun. There are several blocks of shopping where you can find souvenirs as well as lovely boutiques, with clothing you wouldn't find anywhere else.  People just seemed friendly here.
Overall, the trip was very rewarding, and the people are wonderful.  Just make sure to have some cash on you during the tours.  I didn't and I regret not being able to tip our guide who was so helpful!
During the fall you can get great deals because it is the off season, but be prepared for the insects.