While my Dad and brother, Charlie, were visiting our plan was to head to San Pedro for a week-long fishing trip and I was happy about it for many different reasons, but really how could I not be excited about it?  Friday turned out to be a beautiful day for the ride over, although the water was a little rough.  The highlight of the trip over was three dolphins that we spotted who wanted to run with the boat for a little ways – always a thrill for me.  We got in to San Pedro late afternoon, docked the boat and started unpacking.  We had brought a lot of stuff with us because we were planning on utilizing the kitchen in our rented condo at Paradise Villas (
http://www.belizevilla.com/
) which was the most affordable option for our group of 5 that had what we wanted.  The room was great and the location was even better – we were the perfect distance from all the hot spots in town.  The Paradise Villa dock was one of the best spots in San Pedro I've encountered to swim off of and to top it off they have a very nice pool in the middle of their grounds.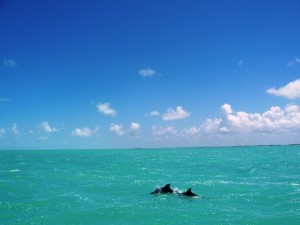 A lot happened over the last week so I'll just hit on the highlights for this post.  Our main focus for the trip was to go fishing for dorado (mahi mahi) with our friend (with a boat), Capt. J., as much as we possibly could.  Last year we got a 38 lb and a 43 lb fish in the boat so obviously we were shooting for bigger.  We went out fishing Saturday through Wednesday last week and ended up with something in the boat every day.  We ate very well but the highlights were the two big dorado we got (both around 30 lbs) that Charlie and Dad caught – my job for this trip was mainly to pilot the boat while we were trolling and when we got on a fish so I didn't get a chance to put one in the boat this trip but next weekend I am planning on fishing with Capt. J. in the Captain Shark's 4th Annual Dorado Rodeo in San Pedro.  So even if I don't get to actually catch the fish I'm excited to experience the tournament.  This year we shot some video of one of our days out – you can check it out at http://www.youtube.com/watch?v=B0Nm8YuzPmU.  We had some pretty big seas every day and the first day out we had to go right back in to drop off my dad and me because we were both feeling pretty nauseous.  I had been out drinking with my brother the night before so that, in combination with the rough seas, was just not a good scenario.  Before Capt. J. took us in we had the privilege of spotting a 20 foot bull shark about 20 yards off the boat and it's always a little humbling to see a huge creature like that.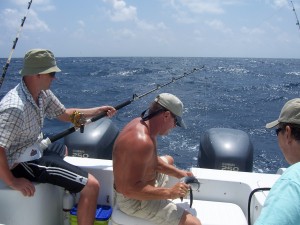 That afternoon dad and I decided to go buy some Dramamine at the local pharmacy and see if it would help us out at all – we took it for the rest of the trips out on the water and it worked like a miracle pill.  I felt outstanding on the boat – it was such a different feeling from last year's constant nauseous sensation.  I didn't push it by going in the hull though – I didn't want to ruin the experience.
It was our last day out fishing that was the most eventful of the week.  We were experiencing 6 to 10 foot swells out there so the boat was all over the place.  Crossing the reef that day was the most nervous I've felt out there so far – Capt. J. got us over like the pro he is.  We were a little worried that we weren't going to come back with a fish after all that bouncing around but after 2pm Charlie brought in a 28 lb dorado.  That morning people had been asking us, "Are you going out there today?!?" and once we spent the day out there we knew exactly why they were all asking us that question.  Most of the nights we grilled our fish at the condo but we had to take some of the fresh tuna we caught over to Elvi's Kitchen (http://www.elviskitchen.com/) for them the sear.  They do an incredible job with it, the tuna literally melted in my mouth – yum!
We spent one day out snorkeling instead of focusing on catching fish – we went to Turneffe and anchored just off Cockroach Caye for most of the day.  It was a great day but I was still blistering from an incredibly bad sunburn so I went out for a bit but spent most of the time in whatever shade I could find on the boat.  As usual, while snorkeling, I spotted a big barracuda lurking around me which always creeps me out so I got back in the boat.  It's a beautiful spot to spend the day and it always amazes me how few boats we see while we're out in that paradise.
Now for the nightlife…I wanted to have some FUN while I was on the island this time.  I needed to take my mind off of the recent boyfriend breakup and San Pedro was just the place to do it.  It is the beginning of the slow season for tourist traffic so there weren't a lot of people around but that first weekend was so much fun.  Friday night we all went to Fido's (http://www.fidosbelize.com/) to watch a band, Love Paradigm (http://www.myspace.com/loveparadigm) who has been playing there for the last year and have an outstanding sound.  We quickly discovered that there were quite a few British soldiers in town and a lot of them are a bit crazy (no offense of course – just have to be honest).  It was inevitable that we would hang out with at least one of them before the night ended and that happened when I was searching for Charlie in Jaguars, a local nightclub.  I had an outstanding time hanging out at the club, dancing, talking and of course flirting.  The only issue I had that night was losing my brother in the club so we made a deal after that – we do not leave any bar or club without finding the other person and checking in.  We would have tested out our ground rules Saturday night but Charlie was down for the count – too much sun had him passed out by 8pm.  So I went out to Fido's again with my parents and Capt. J.  The fun started early on when two of the British military guys decided to strip down naked and climb up above the bar to a horse saddle hanging over one of the beams.  I ran into one of the guys from the night before at Fido's and met a couple new people living on the island – a girl and one of her friends who works in Belize City from Germany.  Overall we had a really great time that night – I did not make the fishing trip the next day.  Alcohol, staying up too late and a boat in the morning do not mix well for me.  Anyway, it was much needed fun apart from thinking constantly about my ex-boyfriend so I was perfectly fine with it and now I have a few more friends in this country which is always a good thing.
We were supposed to leave the island Friday afternoon, but my brother and I decided to stay one more night on our own.  My parents left around 3pm and we checked in to a new hotel, Conch Shell Inn (http://ambergriscaye.com/conchshell/).  Conch Shell is a very nice affordable option located right on the beach in the middle of town.  The rooms are very clean, with comfy beds and a fridge too.  We just chilled out that afternoon and went out again sans parents that night.  Charlie almost didn't make it but eventually I was able to wake him up (it took me about an hour in total) and we headed out to Fido's again since nothing much else was happening.   I met a few more new people that night at Fido's and we all headed over to Jaguars again for a very late night (maybe I should say early morning).  I ran in to a couple other people I knew from the previous weekend there and we all had a blast.  The next afternoon, just for a minute, I considered that I'm getting a little old for these late night drinking/dancing experiences but disregarded that thought almost as quickly as it popped in my head.  I'm just having fun and if that means having some drinks and staying out all night so be it!
All in all it was a great time and probably the most time I've spent in San Pedro at once.