Recently my brother Charlie came to visit from Oregon.  We had a couple jam packed weeks just exploring the Northern parts of Corozal, Chetumal, San Pedro and Caye Caulker.  While he was here I experienced my very first deep sea fishing trip.  Being from Oregon, fishing is a very popular past-time but one that I never really experienced.  A good friend of mine here loves to go deep sea fishing and so we decided to go on a fishing trip with him.  I have been on many boats before but never out in deep ocean waters so I was slightly nervous about the trip – I wasn't sure if I would get sea sick or even like the experience – I was game though and so we went out on the boat.  The plan was to go beyond the reef just off of San Pedro and look for frigate birds.  Apparently when going Dorado fishing (which is what we were aiming for) these birds are very important.  They feed on the bait fish that the Dorado are eating so when the birds find a school of these little fish they fly around to dive for their dinner and at the same time the Dorado are typically also going after the fish from the sea – I feel a little bad for these bait fish.  In any case the mission was to find the birds.  The first day out we did not have an early start, in face we went out for just the afternoon.  We took off from the dock around 11am.  The Captain (Capt. J.) was a little nervous that we wouldn't have success that day because most of the fishermen on the island said that the Dorado weren't coming in, but he was determined we would get one – at least.
So there we went.  The water inside the reef was calm and a beautiful turquoise blue color, as we glided along we could see to the bottom since we were only in about 3 or 4 feet of water.  We had heard that crossing the reef can be a little crazy depending on the ocean that day, but from where we were it looked pretty calm and once we got to the pass it was relatively calm with the waves only coming up about 4 feet.  No problem.  This is where it changed – now past the reef the water was a different shade of blue because it suddenly gets much deeper.  Now we're moving through a route of deep sapphire blue waves.  It really was breathtaking – every so often you could see the waves flash this magnificent bright blue just at the tops.  The wind had picked up that afternoon and we were in for a bumpy ride.  This is about the point where I discovered that I am prone to sea sickness.  Bummer.  I wasn't expecting this at all just based on the amount of time I had spent on various boats, but these waves were different than what I was used to.  Capt. J. went in to high gear shooting suggestion after suggestion to me to get rid of this awful feeling.  I didn't actually get sick but I became very nauseous and it really only started to happen once we began trolling for the fish.  Capt. J. had also been prone to sea sickness when he first started deep sea fishing so he knew all the tricks.  I was a good listener and tried absolutely everything he threw at me.  None of it seemed to be working and even though I didn't get sick it wasn't much fun for the first part of the trip.  I hung in there and hoped that it would just get better and maybe something would work soon.  As I'm sitting on the side of the boat turning various shades of green my brother and mom were helping Capt. J. watch the lines for a fish to hook.  Just earlier we had spotted a lone bird circling through the sky and decided to get the lines in the water.
If you have never trolled before in slightly rough water it is a very bizarre feeling.  A slow, constant, up and down movement that rocks you all over the boat.  It's very different than moving along in the same water at an escalated speed – that's more of a bouncy, fun ride.  In any case we were trolling for what seemed like hours but was really only about 20 minutes and one of the lines snapped back. "Fish on the line!" was the battle cry.  Suddenly I forgot all about not feeling well and the excitement level on the boat skyrocketed.  Me, my brother and my mom were all fishing novices and so Capt. J. was yelling out orders which we all tried to follow as closely as we could.  My job was to grab the wheel and keep the boat with the birds so we didn't lose the school of fish if this one happened to get off the line.  Capt. J. yelled at Charlie next to get ready to take the line – he would get to try for the first fish that day.  Capt. J. could tell that this was a large fish so he yelled at me to grab this special belt for leverage (the rod goes in to a little pocket in the front of the belt so that the person reeling the fish in can have more leverage for a bigger fish).  I grabbed the belt and put it around Charlie's waist.  Capt. J. could tell that we had in fact hooked a Dorado which happens to be his very favorite fish to catch so he was very animated and really didn't want to lose the fish but also wanted to give us the chance to say we caught it.  Charlie was fighting like crazy with this fish – it was a battle and little beads of sweat were dripping from his forehead.  After about 15 minutes of struggling with this fish I quickly realized how very disappointing it would be to lose a fish after fighting with it so hard.  Capt. J. kept yelling at Charlie to make sure the rod stayed up but in the end, after about a 35 minute battle the fish prevailed, got off the hook and swam away.  There was a unanimous groan from everyone on the boat and the wind was taken out of our sails.  We were all totally bummed.  After a little consoling and reflection on what went wrong we got the lines in the water again.  We had hooked one so there must be others out there.
Sure enough later that day after straining our eyes to view these birds that looked like tiny black dots in the horizon we found a few more flying around.  Capt. J. hit the throttle and we headed straight for those birds.  Once we got close we saw that there were three or four all circling low to the water so we knew we had hit the jackpot.  I took the wheel again and we got the lines in the water to troll as quickly as possible.  This time I just needed to follow those birds around – wherever they flew I steered to.  It was fun and I hadn't felt sick for hours now.  This time it didn't take long before one of us saw the line snap again and yell "Fish on!" Capt. J. gave Charlie the rod again to try a second time.  This time he got the fish very close to the boat – it's an absolutely gorgeous fish with bright yellow, blue and green coloring – we could see it come close and then try to run fast away from the boat.  This fish didn't fight quite as long but before she came up she decided to try to go under the boat, behind the boat and as far from it as she could so there was some manoeuvrings that had to be done to make sure she didn't get away.  After about 20 minutes she was done fighting and Capt. J. grabbed the gaff to get the fish on the boat.  There it was – a magnificent fish on our boat.  It was the strangest thing though – she turned a blue and white color once she stopped struggling.  It was a little sad, but we would be having a feast that night.
Charlie was ecstatic.  It was his first big fish and it was huge – she weighed in at 38 lbs.  For a Dorado this is considered large.  Once we got on the dock the camera was out and we were taking as many pictures as possible.  Everyone at the dock was thoroughly impressed and they were all asking where we had caught it and just generally watching the show.  Capt. J. went to clean the fish, my mom and I cleaned the boat and Charlie cleaned the fishing rods.  It was a joint effort to get this all done and it went fast.  Capt. J. cut choice pieces of meat off the bones of the fish which is what we would be eating only marinated in lime juice, and then he also cut fillets which we planned on taking to a local restaurant to be grilled up fresh for our dinner.  The rest of the fish was utilized as well, a local woman took the head and the rest was eaten by the sting rays that were waiting around the cleaning table for any scraps they could get.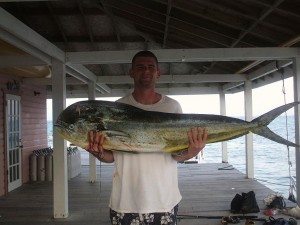 I cleaned the sushi meat and got it in the lime juice with a little lemon pepper – we put that in the fridge at the hotel and then everyone took their showers.  After about an hour we all met up again to eat our sushi appetizer – this was one of the very best eating experiences of my entire life.  It was so good – the meat just melted in my mouth, now I knew what fresh Mahi Mahi tasted like right off the bone.  It was outstanding.  I did not realize that in the water the fish is called a Dorado but once you're eating it the meat is called Mahi Mahi.  We went to Elvi's Kitchen in San Pedro that night with a bag of fresh fillets and instructed them to blacken half an fry half.  They did an excellent job and we all unanimously agreed that the blackened version was far superior.  We totally stuffed ourselves while reflecting on the trip.  It was an incredible day and night.  We couldn't eat all the fillets we brought so we gave our leftover fried fish to the bartender at the hotel we were staying at – The Tides Resort.
Of course we had to go out that night and check out the nightlife with Charlie.  There wasn't a lot happening since it was early in the week but we found a bar that had some live music playing and we perched ourselves at the bar for a few drinks.  We didn't stay out too late because we had another full day of fishing the next morning.  This time it was going to be my turn.
The next morning we went through the same routine getting off the dock.  We were all quickly learning how to tie various knots and learning the ins and outs of the fishing boat.  We were on a bird quest yet again.  This time I tried to avoid the sea sickness thing right away.  I didn't go in to the hull, I didn't just sit in a seat – I actually found that the best thing for me to do was hang off the side of the boat.  This way I'm really concentrating on not falling off rather than the movement of the boat.  It worked like a charm.  Sadly we didn't find any birds that whole morning so we took a lunch break and went over to Turneffe for some snorkeling which was amazing.  After being in the water for awhile we headed back out to look for birds.  This time, around the same time as the day before (late afternoon) we spotted a flock diving for fish so we got the lines out again.
Most of the details are the same but this time it was my turn to catch the fish.  We had hooked another Dorado and this time he was bigger.  We could tell by the shape of his head that it was a bull.  Yes! I had a chance to outdo my brother – and what sister doesn't dream of that.  Capt. J. handed me the line this time with the belt. The first issue was quickly realized when the belt was too wide for my hips.  I needed the extra leverage – this was a big fish.  So instead I had to try to chase the fish around and sit on the boat for the needed leverage.  He was fighting hard – even the hardest arm workout in the weight room hadn't produced the burn that I was currently feeling pulsating throughout both arms.  I could feel them getting weak but I kept fighting – I was determined to get this fish in the boat.  He got close and we all started to see him on the top of the water but then my arms would give a little and he would take the opportunity to run again – we played that game for what seemed like hours but was probably about 20 minutes.  At one point I had to have a break so I handed the rod over to the captain for a bit.  I shook out my arms and shoulders and then took the rod back – he stayed behind me helping me.  Finally around the time I actually felt like my arms would be falling off the fish decided to stop fighting.  I was so happy because I think after about 3 more minutes I would have been forced to quit.  I didn't have to though – I was the victor this time.  Capt. J. grabbed his gaff again and got the fish on the boat.  He was huge – weighed in at 43 lbs so I officially caught the biggest fish on that trip.  We had drifted about 4 miles catching him and it was well worth it.
We followed the very same protocol as the night before and had another feast of sushi and blackened Mahi Mahi at Elvi's Kitchen (http://www.elviskitchen.com/). It was quite an experience and an unforgettable trip.   I guess there really may be a little thing called beginner's luck.  These are the experiences that make Belize priceless.